Hi!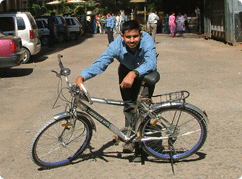 Welcome back from my previous trip!
It's december, and I am bitten by the travel bug again. This time, I intend to cover the areas on the western coast of India on my cycle. The trip would cover 2000+ kms of gruelling terrain and span 21 days !
I am starting from Mangalore tomorrow (17th) and hope to reach Ahmedabad on the 6th of January, 2006. I will take a bus to Mangalore and I have a return train ticket from Ahmedabad for the 7th.
From Mangalore, I am cycling to Goa. From there, I will go to Hubli and then to Pune over Aihole, Badami, Pattadakal, Gokak and Mahabaleshwar. After Pune, it will be Mumbai. After Mumbai, I will be off to see Shirdi(?), Ajanta, Ellora, and Lonar (yes, you haven't heard of it yet). From there, I hope to end triumphantly in Ahmedabad.
Needless to say, there will be lots and lots of tourist places that I will be covering. I will try to update this page as frequently as possible. Stay tuned!
This will be my biggest challenge yet. I haven't prepared much, though. I am banking on my confidence and experience to pull off the trip (folly??).
Please note the part of the India map on the right-hand top corner of this page. I will carry a GPS receiver and using it, I will indicate my progress on the map as the days go. Move your mouse over the red dots.
My mobile number for the trip : +91 98457 47130.
Credits till now :
My friend, Raghava Kotekar, for the arty part of this site. If you think this site looks cool, you know who to hire!
My manager, Malay Shah, for holidays and railway ticket. If you want to know which manager gave me the leaves, that's him!
My cycle mechanic, Lalu, for doing such a wonderful job with the cycle.
GPSBabel, Python+PHP+Ming used for the flash animation with a custom program.