Rough altitude profile (inaccurate):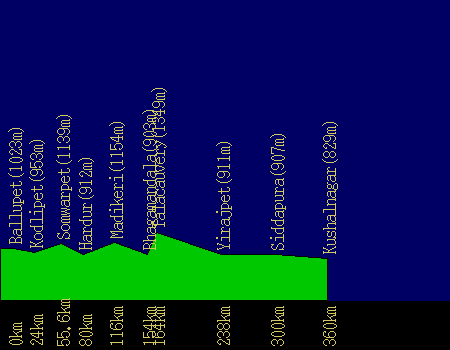 Final Update for now: Six of us finally finished the tour - Avinash, Gourish, Goutham, KP, Prasad and Me. Abhinandan did days 1 & 4 of the tour. All of us are back in Bangalore and probably reliving the adventure 🙂 I will post the photographs, the route we took, maybe a detailed story and statistics in a few days (hopefully).
Day 5
Update: 5:20pm We reached Kushalnagar half an hour ago after visiting the Tibetan monastery. Afternoon was the hottest in terms of temperature. We all enjoyed the last leg of our journey and hooray we are done! 360kms and 5 days of fun. We are waiting at the bus stand now to come back to Bangalore.
Update: 12:50pm Another very relaxed day this is turning out to be. We reached Dubare elephant camp quickly. The elephant ride was supposed to start at 9:30, and none of us were really interested. So we proceeded towards the Harangi reservoir. The chief minister was coming visiting, so a huge crowd had gathered - but no water was released to show him. fortunately there were no security hassles as the CM came on a helicopter. But the public wasn't allowed inside - and that includes us. So back we came. A short distance from the junction and we reached Nisarga Dhama - an island on the river cauvery and a popular picnic spot. And we are just lazing around after lunch here. We have ridden a relaxed 40km till now. We intend to roam around it a bit and then visit the Tibetan colony at Bailkuppe. And then we will stop at Kushalnagar and catch buses back to Bangalore. Did I forget to mention that the overall weather till now was fantastic?
Update: 6:10am We are starting off towards Kushalnagar; our last day of riding. Many interesting places to see on the way...
Day 4
Update: 6:20pm We reached Siddapura an hour ago. Not too many choices for lodging. We might probably settle for Diamond lodge. Forgot to tell you, we didnt make it to the falls. We reached a point three km away from the falls and found that going to the falls needed us to walk for a few hours since the falls is deep inside the forest. It needs forest department permission too. Overall we figured we couldn't spare the time for it. So we decided to go to Siddapura and stop there for today. We used some interior roads on the way. We enjoyed excellent weather most of the day - including some showers. Some breathtaking vistas too. And an excellent (but sparse) meal at a place called Hatur. Overall an eminently relaxed and enjoyable ride of 60km - and that brings up the 300km of the tour.
Update: 9:40am finally we are starting after repairs ! 18km to the falls.
Update: 8:50am Abhi is pumping air to his front tyre using our small hand pump.
Update: 8:30am We are starting off from Virajpet towards Barpole Falls. We slept so late yesterday that we didnt get up till 6am. Now Abhi has joined us. Surprise - his front tyre has no air. I am pissed with him for this. This means we are getting delayed all the time 🙁