You might have read the newspaper reports on unscheduled power cuts that have been planned. That affects us Bangaloreans too!
Few go for inverters, but many people resort to rechargeable lights. And these are available at reasonable prices. But hey wait, many people nowadays have computers at home and most of them buy a UPS too. Is it possible to use the UPS the same way as an inverter ? I had mulled over this fact for quite sometime, and had enquired with an electrician too. He had replied that tubelights will not work with the power supply given out by the UPS. However, he had opined that CFLs should work.

The benefits of using a UPS for home lighting in emergency conditions are many. A CFL consumes a measly 14 watts in comparison to around 100 watts for just my CRT monitor! The overall power consumption of my computer is around 300 W. And I am supposed to get backup for 12 minutes for my computer if the power goes. So, with a CFL you will get a lot of "backup" time. Theoritically, the UPS should be able to power a 14W CFL for (((300/14)*12)/60) = 4.5 hours approx! By that time, hopefully the power supply would have resumed...
And this, by spending very less additional money (assuming you already own a UPS). You only need to buy a two pin plug, long enough electrical wire and a bulb holder ! I spent just 31 rupees 🙂
Due to all these considerations , I was toying around with the idea of powering a CFL using my UPS. The newspaper item finally forced me into action. So there it is !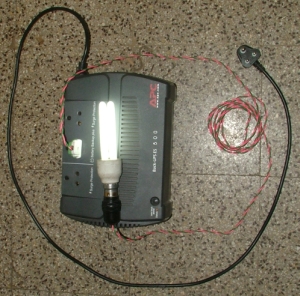 So, what would be cooler still ? Using a laptop as a power source !!! If you try it, let me know 🙂