Reams of newsprint have been wasted on how far the new airport in Bengaluru is from the 'city', how many signals need to be crossed to get there and how much time it takes to get there.
So how far it is really from, say Banaswadi ? The answer is - 25 kms. Sure you don't believe me. Well, you don't need to, unless you are willing to cross a compound wall to get into the airport ! Don't understand ? Read on...

Here's what happened : me & KP went on a short saturday morning ride. All we wanted to do was to ride on Hennur road till Devanahalli or the new airport. Hennur road is pretty good for a decent ride. 3 kms from the ORR junction & you are out of traffic. The roads are nice, traffic is minimal from then on, no dearth of small villages, and chai shops. Ideal for a morning ride or training.
You get two deviations towards the BIA, one saying 22kms and the other 16kms. The 16km deviation comes after Bagalur, and is just before Mailanahalli. We went on the 16km deviation & came back because construction work was going on the road-side. The road itself seemed ok, but we didn't like the disturbance caused by the workers constructing the roads. So back we came & went to Mailanahalli.
There we asked whether there is any other road to the airport. The bakery shop owner replied, "go ahead a bit, and cross the compound". We didn't understand, but went ahead. Sure enough - a few hundred meters ahead came the compound wall of the BIA. And stones had been placed on either side to make way for pedestrian crossers ! Imagine our joy at having reached the BIA without so much as breaking sweat. We crossed the compound wall and went straight into the airport !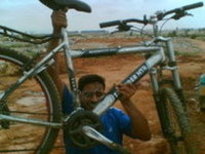 Cross the compound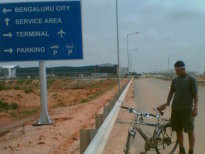 And BIA Ahoy!
So, bikers, if you anyone asks you how far the new airport is, then you know the right answer 😉 And motorists, please wait for some more time. The place where we crossed the compound wall will soon make way for a real road!